Robotic Wood Craft is looking to minimize the raw material foodprint through an efficient repurposing project. The project develops a Data workflow from the scanning of the logs to the Robotic Fabrication and assembly of the pavilion. The final prototype is a post tension structure, with different robot milling joints that maintain the connection in their place.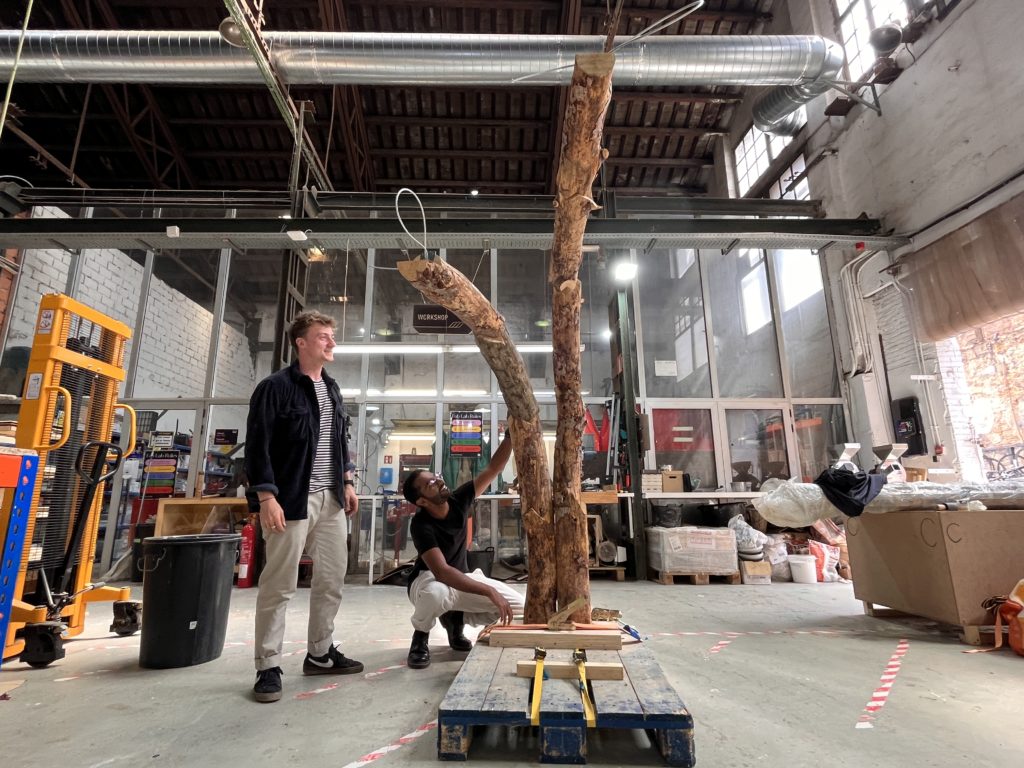 This project create their own workflow of information, since the scanning of the raw Logs till the fabrication anmachining of them. In this specific post we will talk about the Fabrication process.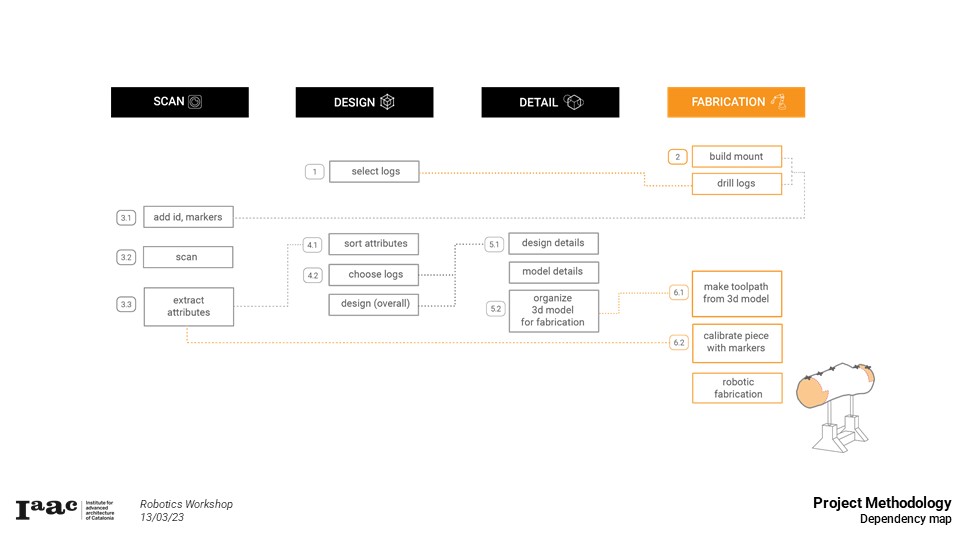 The first process is the drilling of the logs, the holes are separated by 40cm, we are using a column drill and a template to be sure that we have an accurate distance between them and this fits on the workholding for scanning and machining on the robot.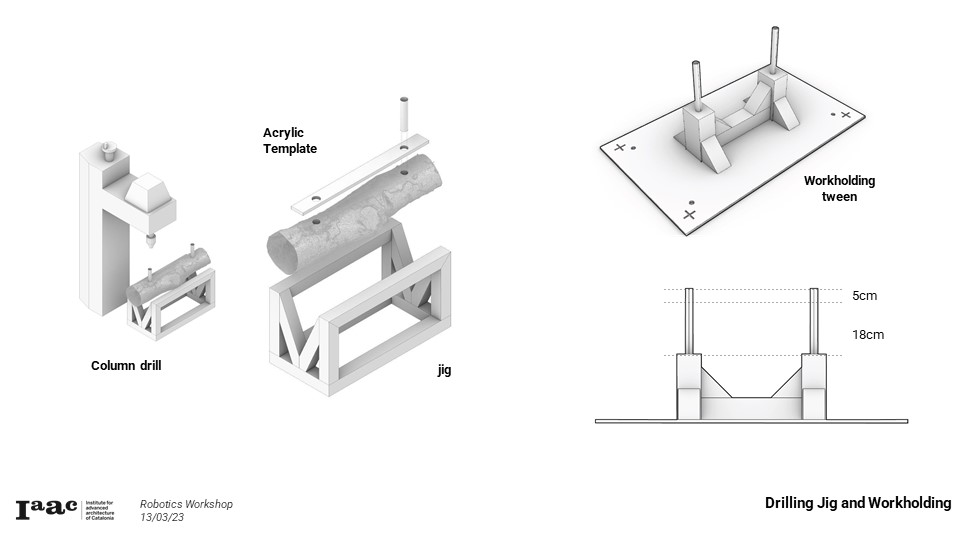 For the Robotic fabrication we create a workholding attached to the table, which is the twin of the one used for the scanning, this helps us to align the complete mesh and calibration points and cutting planes to our piece, then we segment the milling in different processes. The toolpath is prepared with the detailed planes of connection between logs and the engraving line for the post tension cable.
Before starting the machining process we calibrate the robot from 3 different points on the log that are marked and scanned to reference the kuka environment and transfer the coordinates to the digital workflow, then process the code for machining.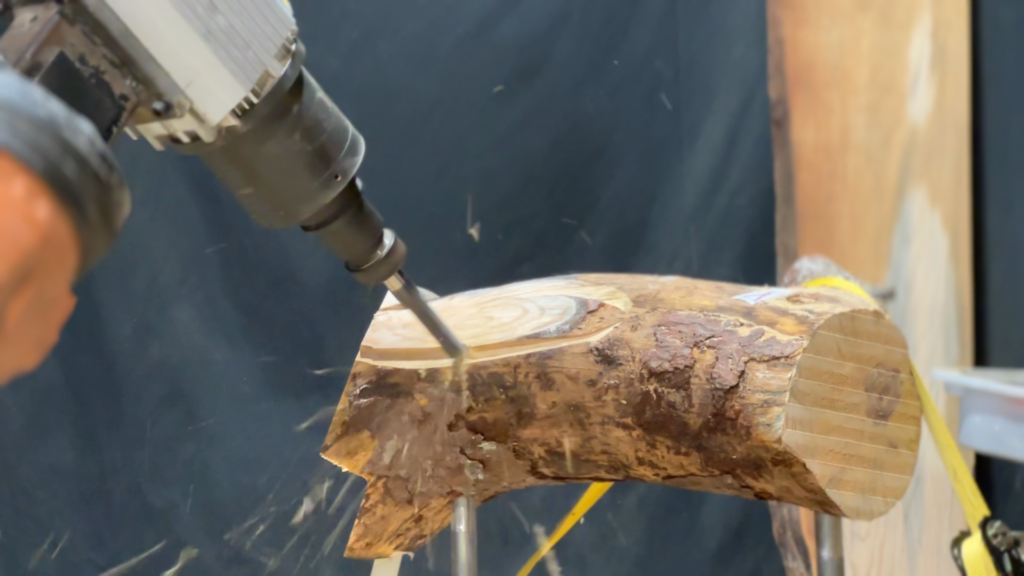 Roughing: with the help of rhinoCam and grasshopper kuka PRC, this is the first process to remove the biggest amount possible of material.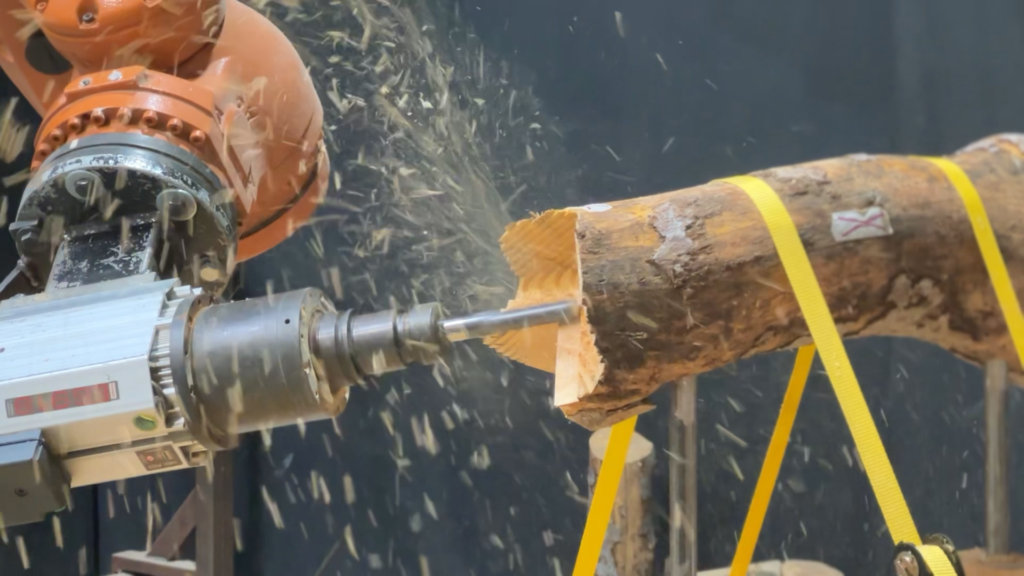 Finishing: This was made with 100% grasshopper toolpath and the same mill bit as the roughing. The finishing gives us the accurate joint to assemble our pieces.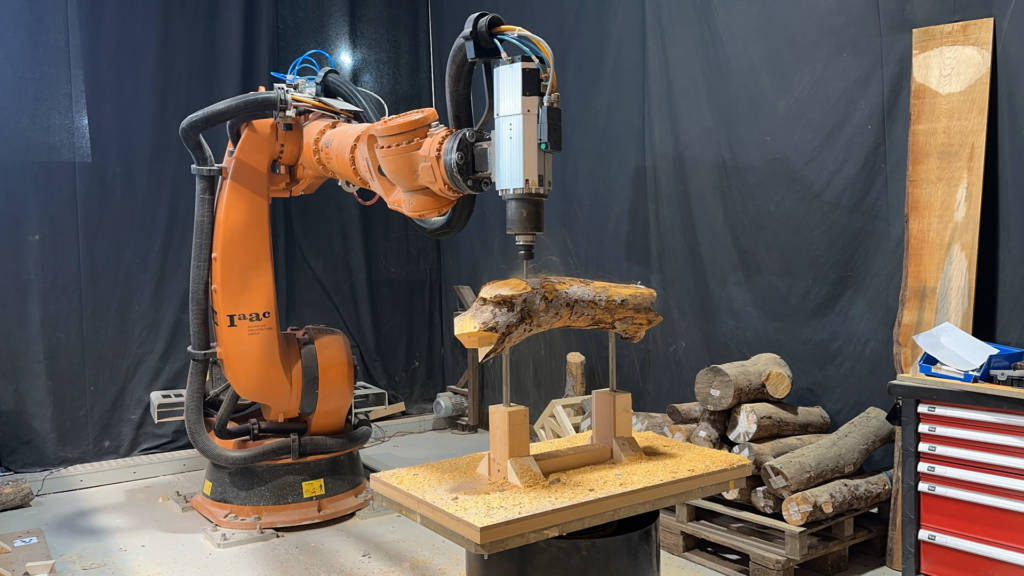 Engraving: For our post tension structure, we create an engraving pocket in each log to contain the steel cable.
The building ans post tension of this project was made by hand with no glue or dowells.
From Robotic Fabrication is a project of IAAC, Institute for Advanced Architecture of Catalonia developed in the Master Robotic and Advaced Construction02 and Master in Advanced Architecture02 – 2022-2023 by the student(s) Harshul Goti, Cansu Kilinc, Andrea Lizette Najera Rodriguez and Federico Caldi during the course MAA02, & MRAC02 22/23 Robotic Fabrication with Alexandre Dubor, Marielena Papandreu and Valentino Tagliaboschi.