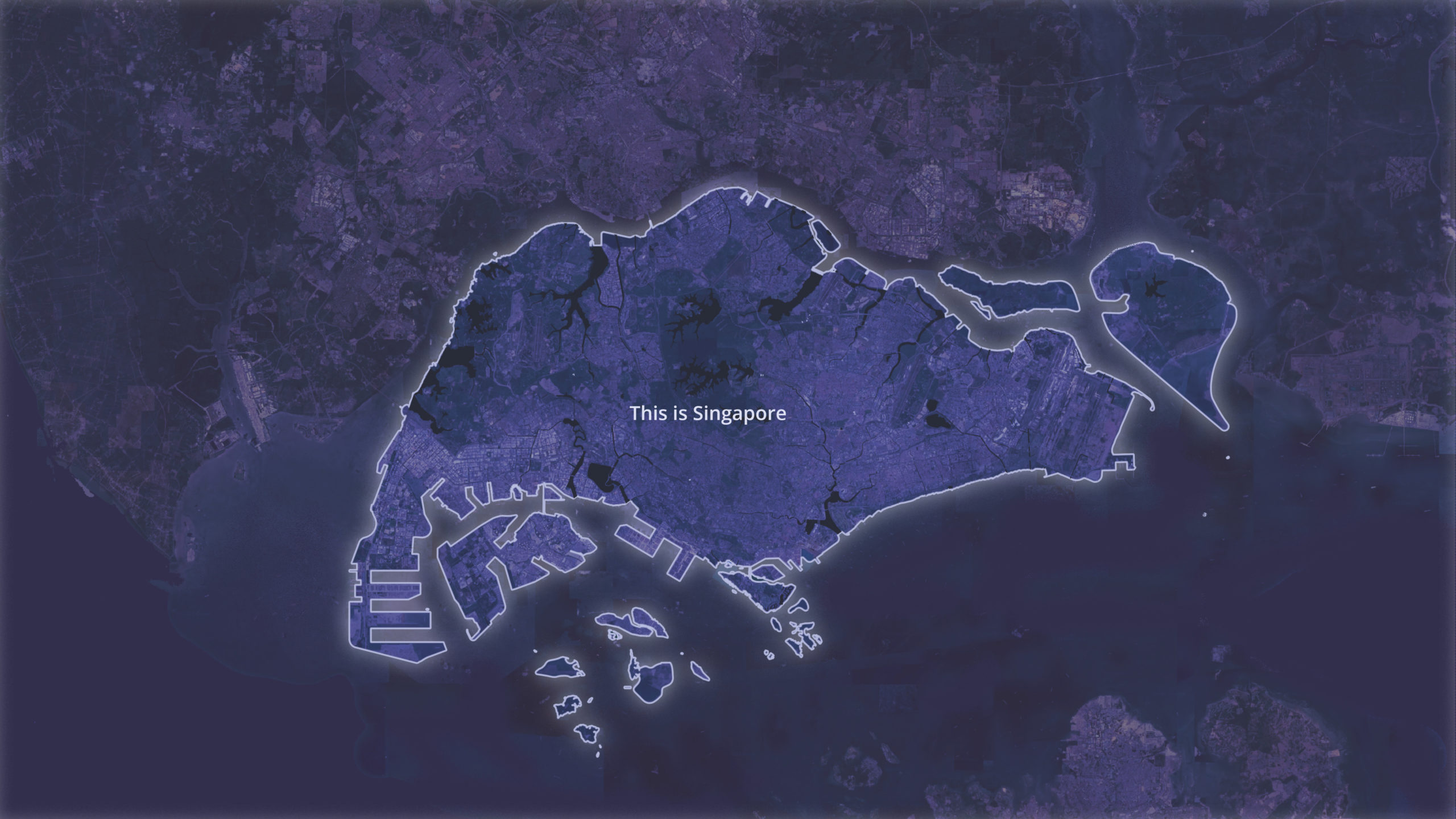 Singapore, a quickly developing city-state is running out of land and linear expansion with new housing will soon no longer be an option. The project strategically targets public housing as a place of densification and a source of urban mining, aiming to solve the problem of upcoming precast concrete waste. Therefore a circular micro-district design proposal is created, focusing on processes (new circular hubs, proximity of material distribution), materials (pre-cast modules with upcycled materials) and environment (bioclimatic conditions improvement), applied both in district and city scale.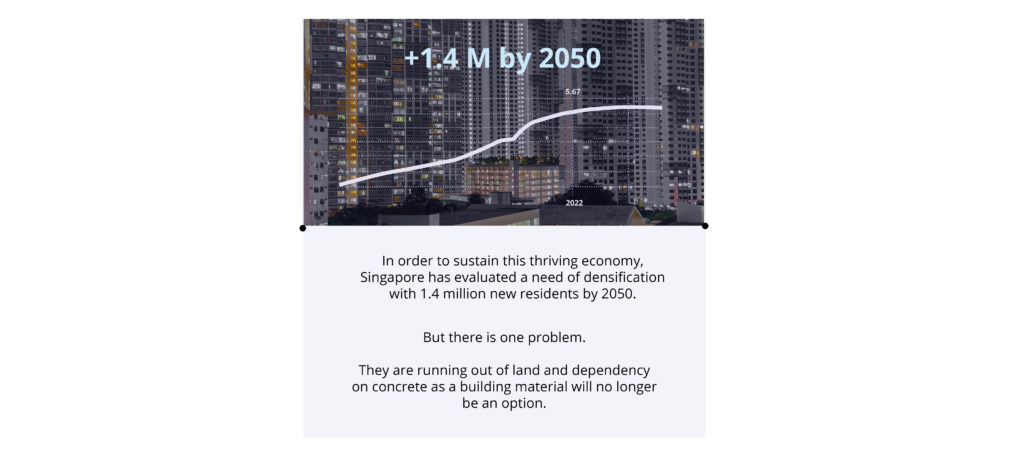 -ANALYSIS–

To identify public housing mines and the materials they contain, we employed a rule-based algorithm and facade recognition tool. It has helped us to identify 12 material sub-typologies of buildings and revealed that the dominant building typology is residential high rise, that constitutes more than half of the total typologies' gross floor area (GFA) in Singapore.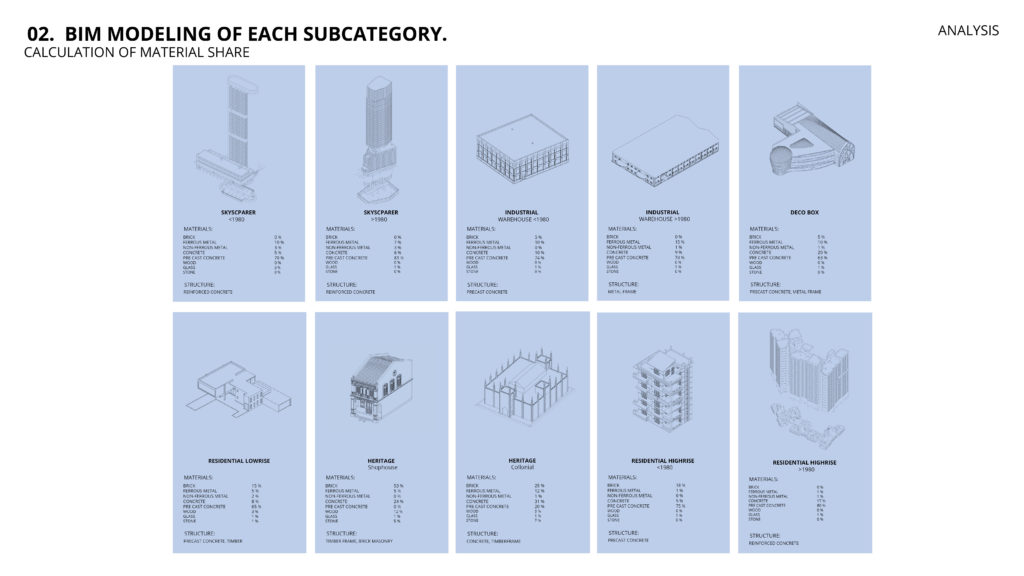 By assigning percentages to each building, we observed that pre-cast concrete and concrete emerged as the predominant materials. Furthermore, our analysis revealed that public housing exhibits the highest concentration of pre-cast concrete, emphasizing its significance as an urban mine.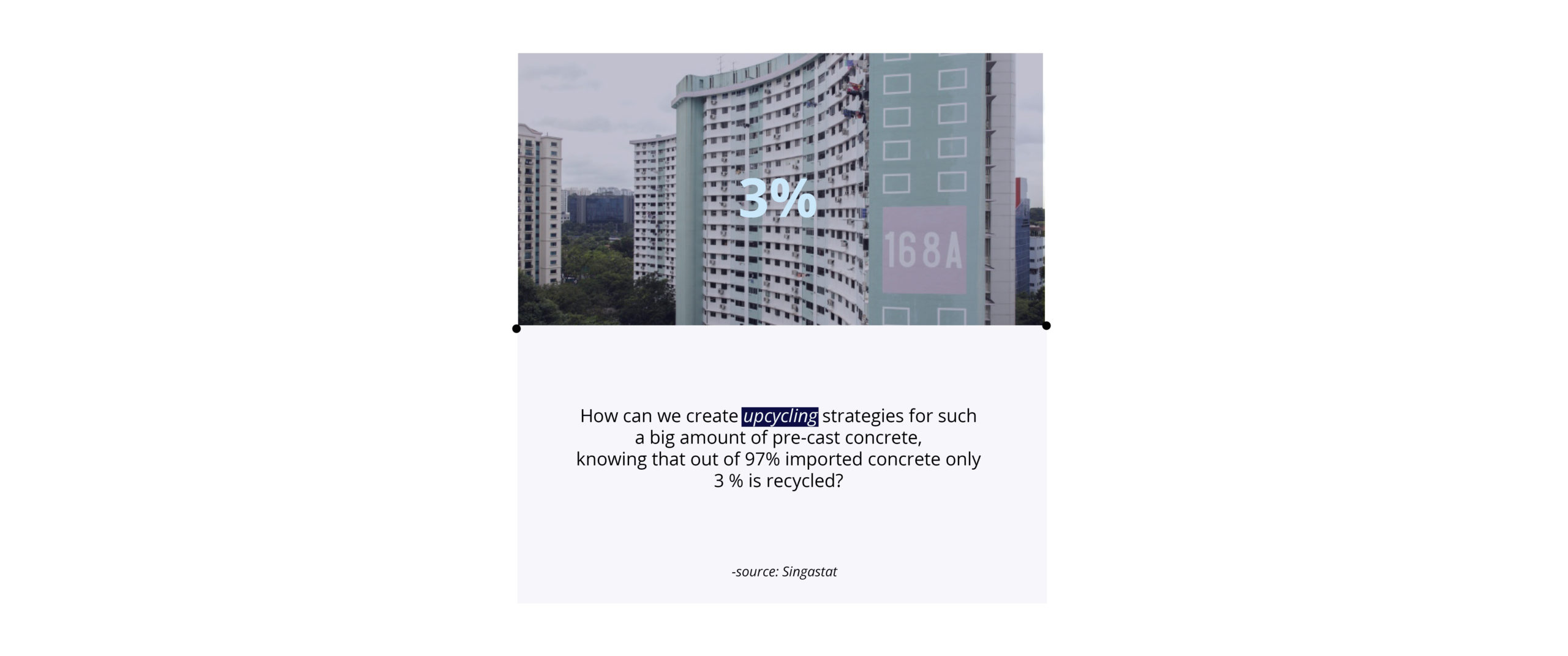 Firstly, we analyzed when the buildings are to become urban mines. By 2050 all of the buildings marked in the chart would be 50-110 years old. The map visually represents the age distribution, with white crosses indicating areas that may be designated for demolition. The issue of upcoming material waste is not addressed adequately in the current densification strategy. According to the Singapore Masterplan, expansion primarily targets three areas: A. Future development zones by 2030, B. Reserved sites for future development, which include forests or meadows, and C. New projects awarded green mark policy incentives, all of these 3 excluding public housing excluded from the focus.

-01 DENSIFICATION STRATEGY-
Singapore needs more circular densification approach that would start using existing public housing areas as sources of materials and densification. To address this need, our proposal comprises three key components: a densification strategy, policy considerations, and a design proposal centered around the concept of circular micro districts. First question tries to answer how can Singapore break free from linear urbanization to empty zones?
We've discovered that there is no need to build in reserved land sites- densification shoud be focused on circular existing housing stock regeneration, avoiding massive pre-cast waste. The map displays the current gross floor area (GFA) of public housing in violet. By densifying future development sites (brown color), we can achieve just half of the maximum potential GFA for public housing (white colors), accommodating the influx of 1.4 million people.
-02 POLICY PROPOSAL-
Strategic, comprehensive modifications to housing infrastructure hinge on the expiration of the 99-year lease, necessitating a policy change. We advocate for a targeted renovation strategy for zones that have crossed the 50-year milestone. The earmarked areas encompass edifices erected between 1937 and 1975, which have already exceeded the 50-year threshold, rendering them eligible for our intervention. As an initial measure, we've classified buildings into distinct districts utilizing a specialized method that leverages variables such as age (ensuring a maximum age gap of five years) and spatial proximity to adjacent buildings. Subsequently, we've divided these interventions into four distinct periods to guarantee a steady supply of materials conducive to upcycling within each timeframe.
-02 DESIGN PROPOSAL-
Once the potential of strategic renovation is unlocked, how should we limit material waste of densification processes and upcycle concrete? For the previously mentioned areas, we apply the concept of circular micro-districts, which is implements in both the city and district scales. They are defined as an existing public housing territories of varying sizes that have reached a 50-year lifespan, but the principles can be applied to a new development as well.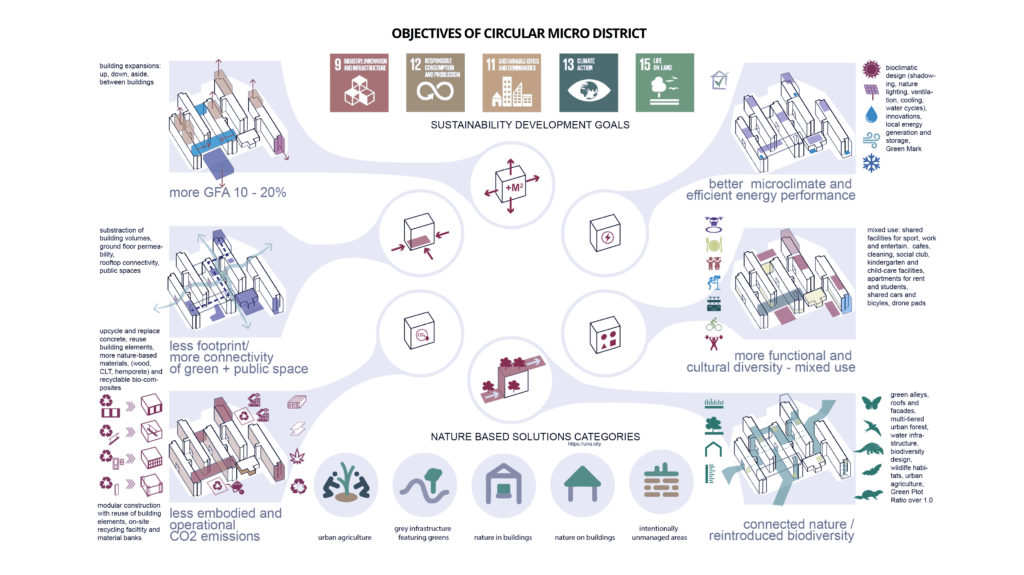 In 2017 Singapore launched the Construction Industry Transformation Map aiming to widely adopt Design for Manufacturing and Assembly and introduce mass modular construction. To supplement the existing policy we propose modularity as the key point of circular construction in the future. Modularity involves DfMA both with Design to Robotic Production and Assembly and provides the scheme of customizable prefabricated modules merging 5 dimensions: a variety of 3d geometry, materials and nature-based solutions.
Material flow of pre-fabricated modules is showcased in a case study. Existing building materials were categorized in 4 groups: "recycle", "retrofit", "reuse", and "demolish". To upgrade building quality, new materials, such as hempcrete and CLT were added, aiming to reduce CO2. The project also showcases possible scenarios of material upcycling in flats.
To test the concept we have selected the Mac Pherson micro-district located on the outskirts of the Central District of Singapore, where we have identified 29 residential HDB housings, built in the 70-s, and several auxiliary buildings, predominantly multi-story car parking lots. The project raises aim to renovate these buildings that share 60% of the total gross floor area of the micro-district and accommodate ¾ part of the residents. Processes of circular micro-district:
Circular micro-district design starts from the evaluation of materials and elements in buildings under renovation, and setting up material storage sites according to the demolition protocol, designation of a site for a pop-up recycling facility.
Our proposed micro-district renovation prioritizes sustainability and efficiency. Plans include relocating car parks subterraneously, advancing shared vehicle schemes, and transforming existing multistory parking into versatile co-working and cultural zones. As part of our carbon mitigation strategy, bio-concrete will replace a portion of traditional concrete, thereby decreasing CO2 emissions.
Architectural considerations focus on enhancing territorial permeability and pedestrian connectivity. The strategy encompasses a partial reduction of ground-level structures, facilitating new pathways and wider ground-floors. Facade panels composed of light concrete will be substituted with Cross Laminated Timber (CLT) and hempcrete, while detached panels will be reused, furthering our sustainable objectives.
The scheme envisages lateral and vertical building expansions, incorporating a blend of bio-concrete, metal, timber, and hempcrete to develop diverse mixed-use spaces. These primarily residential extensions will emphasize green spaces and increasingly elevated structures towards the micro-district's core.
Post-renovation, the micro-district should exhibit an 11% Gross Floor Area increase with a reduced environmental footprint, attributed to the predominant use of non-concrete materials in densification. To augment the Green Plot Ratio, we will adopt a nature-oriented strategy assessing existing green spaces, wildlife. corridors, and aligning with the LUSH 3.0 standard.
Finally, our mixed-use approach will encompass non-residential zones, accommodation for students and foreign workers, and refurbished parking. With the integration of drone delivery pads and rooftop amenities such as gardens, farms, and offices, a vibrant and sustainable community is envisaged.
-FINAL WORD-
Circular micro-district will: be applied at all micro-districts of Singapore allowing further switch to acupuncture renovation only, contribute to a new generation of Green Mark Standard with a strong focus on reuse and recycling, incentivize the Urban Mining Futures Market and help the transition of the business to a circular economy, contribute to the refinement of concrete upcycling and its replacement by nature-based materials, support the circular economy to become ubiquitous changing the meaning of 'business as usual'.