01 / SITE ANALYSIS
OUR GUIDING PRINCIPLES
As a part of a team working on a project to establish a colony on Mars, and we're focusing on developing a sustainable food system for our future home. In order to do this, we first analyzed the conditions on Mars, such as the maximum solar radiation, average temperature, and frequent dust storms.
After considering these factors, we decided to focus on growing crops, using hydroponics and insect farming techniques, and exploring genetic modification as a means of adapting to the harsh Martian environment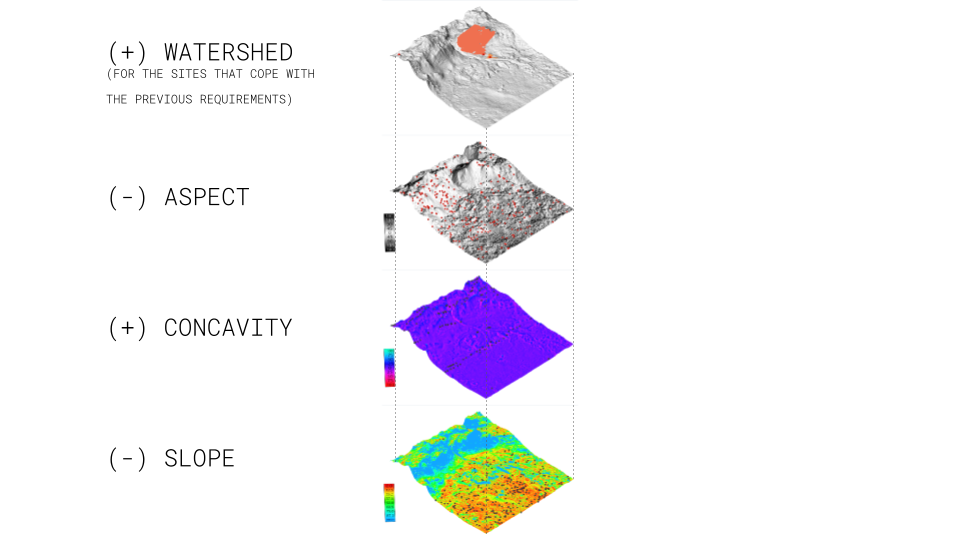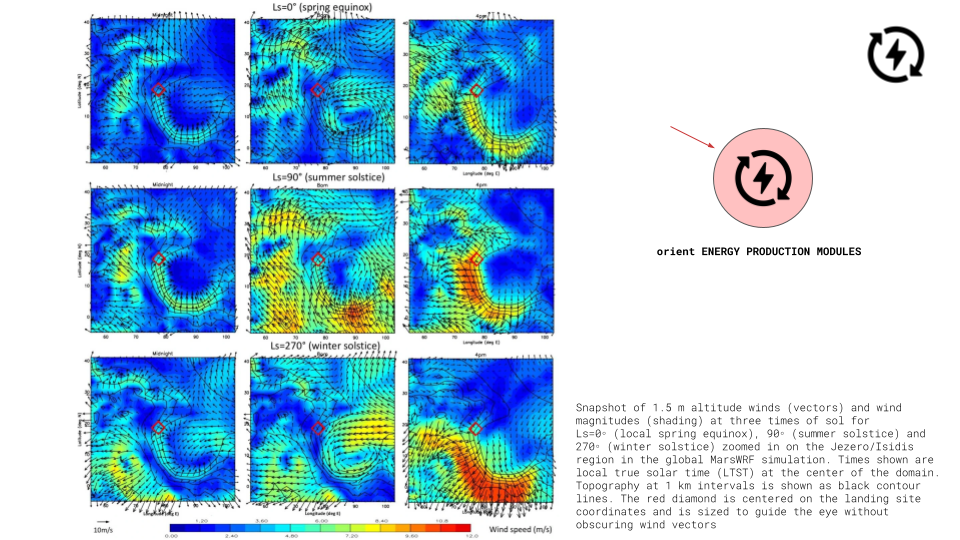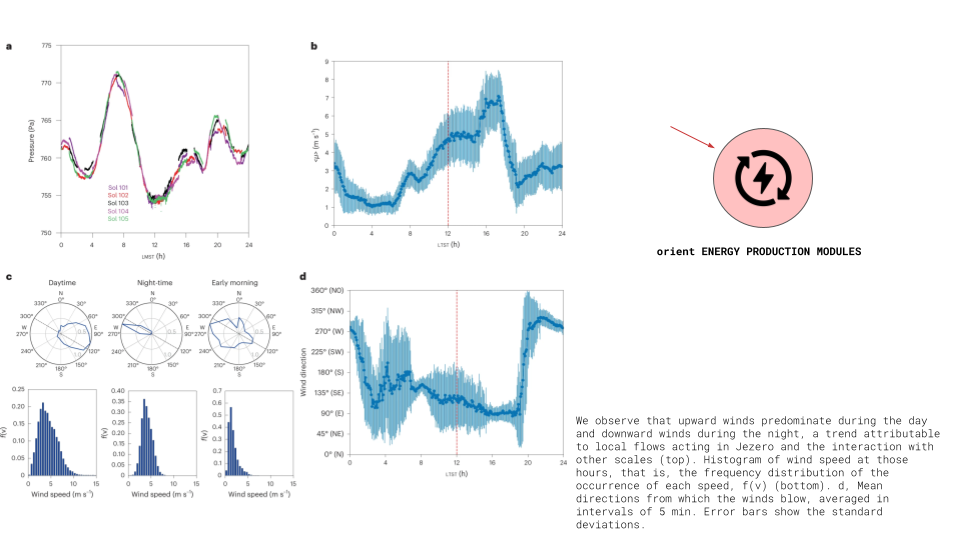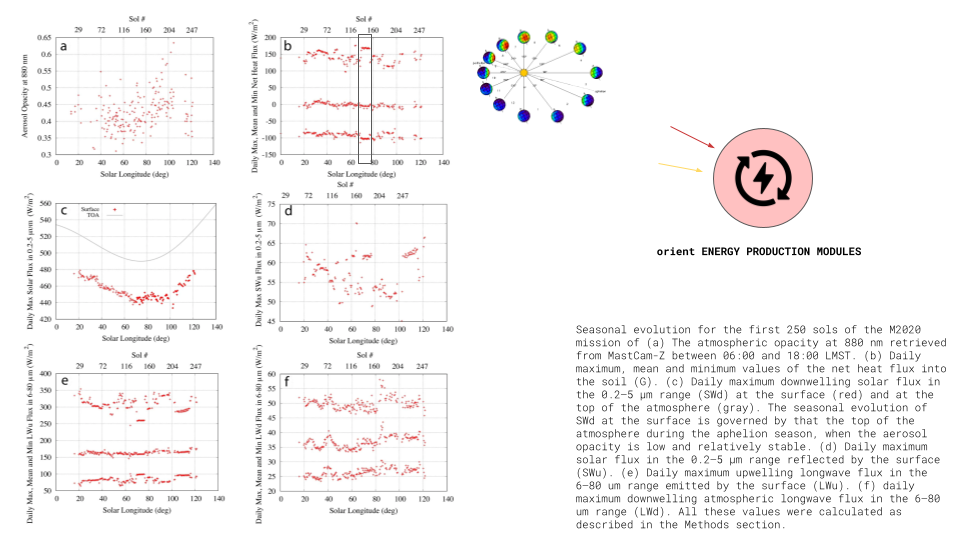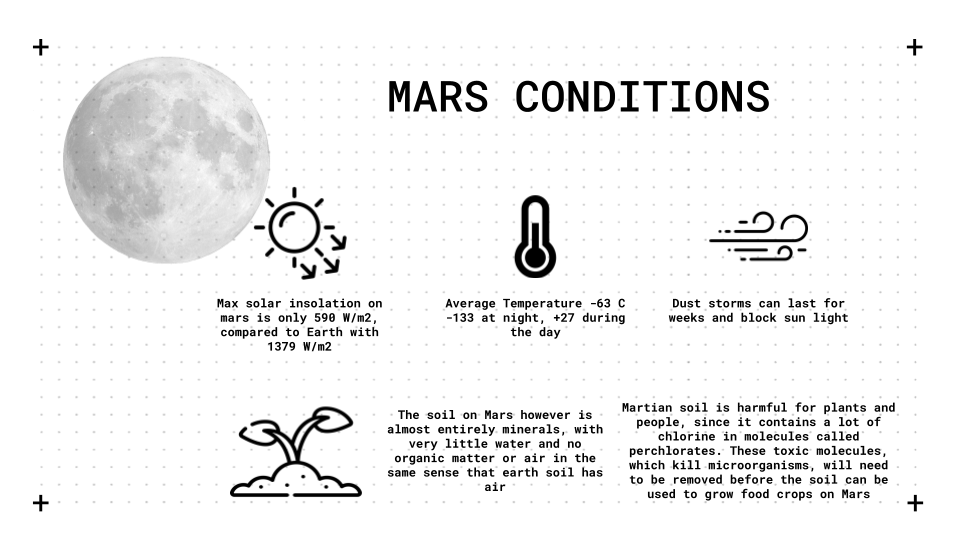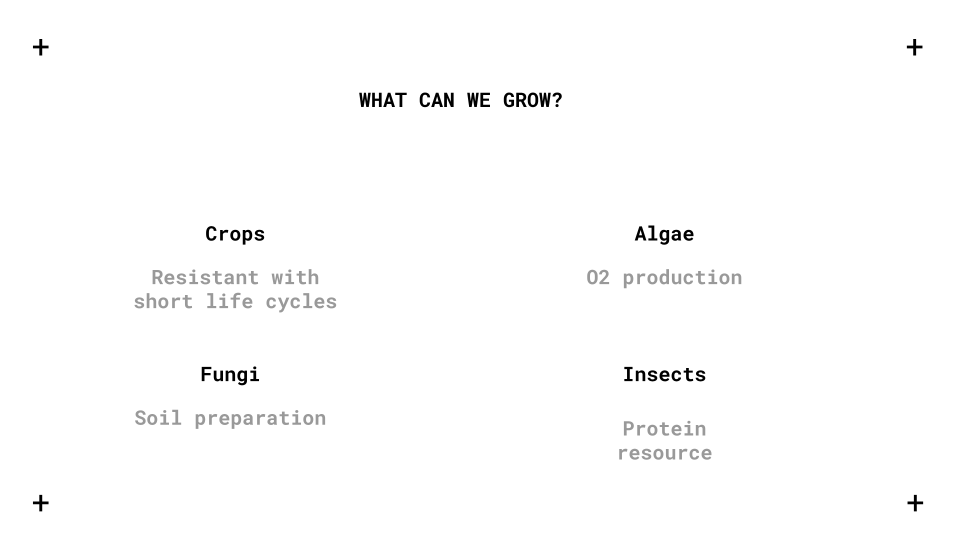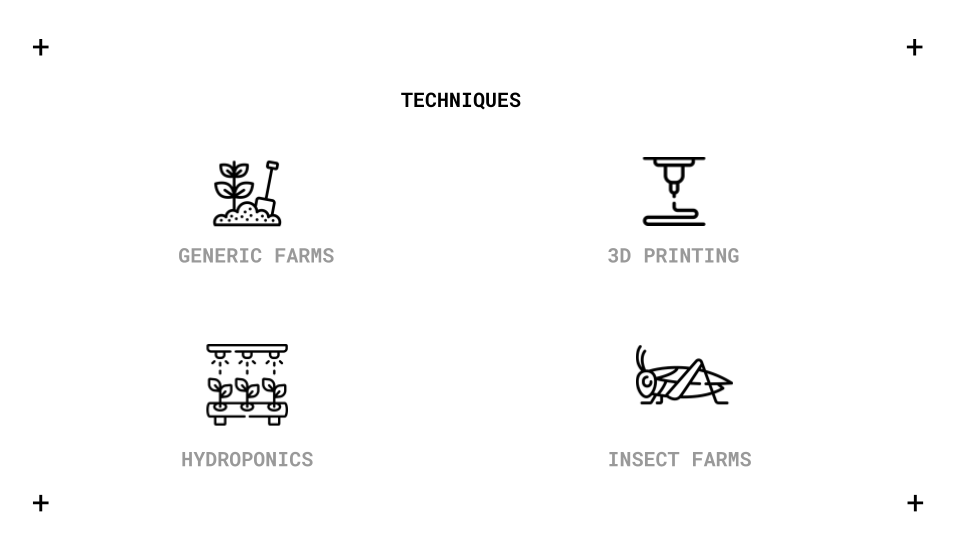 02 / PROJECT REFERENCES
To develop our project references, we looked at works such as Ice House from Clouds AO and Mutations-Creations from Ecologic Studio. The first one uses the approach of ice dome to protect from solar radiation. The second project uses 3d printed structures for growing plants. We will combine these 2 approaches in our project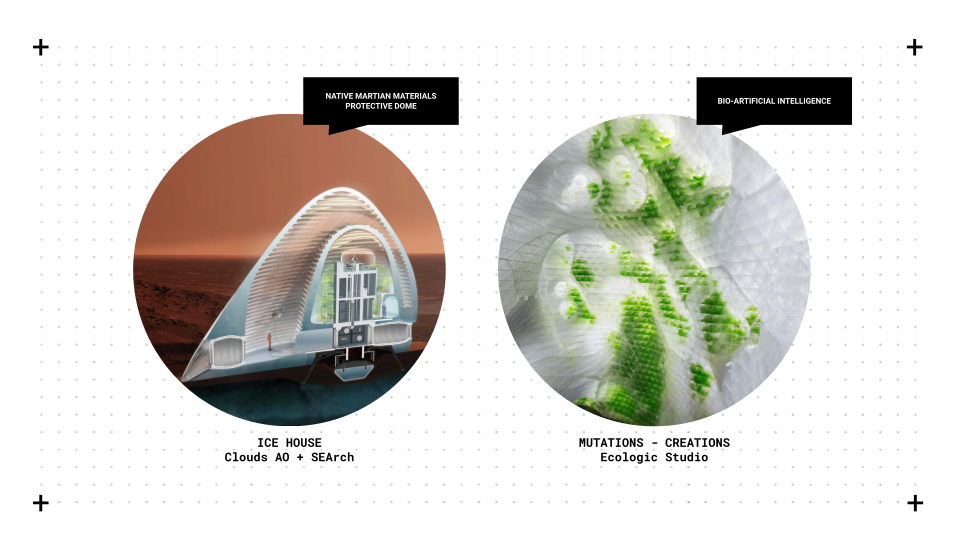 03 / MASTERPLAN
Our master plan involves creating a colony area of 68,000 square meters. For our program, we have a cluster of 7,500 square meters. Our calculations say that to supply a colony of 50 people with food and energy we need 15,000 square meters dedicated solely to food production and 1,200 square meters for foreign ownership. To optimize space, we plan to stack our production.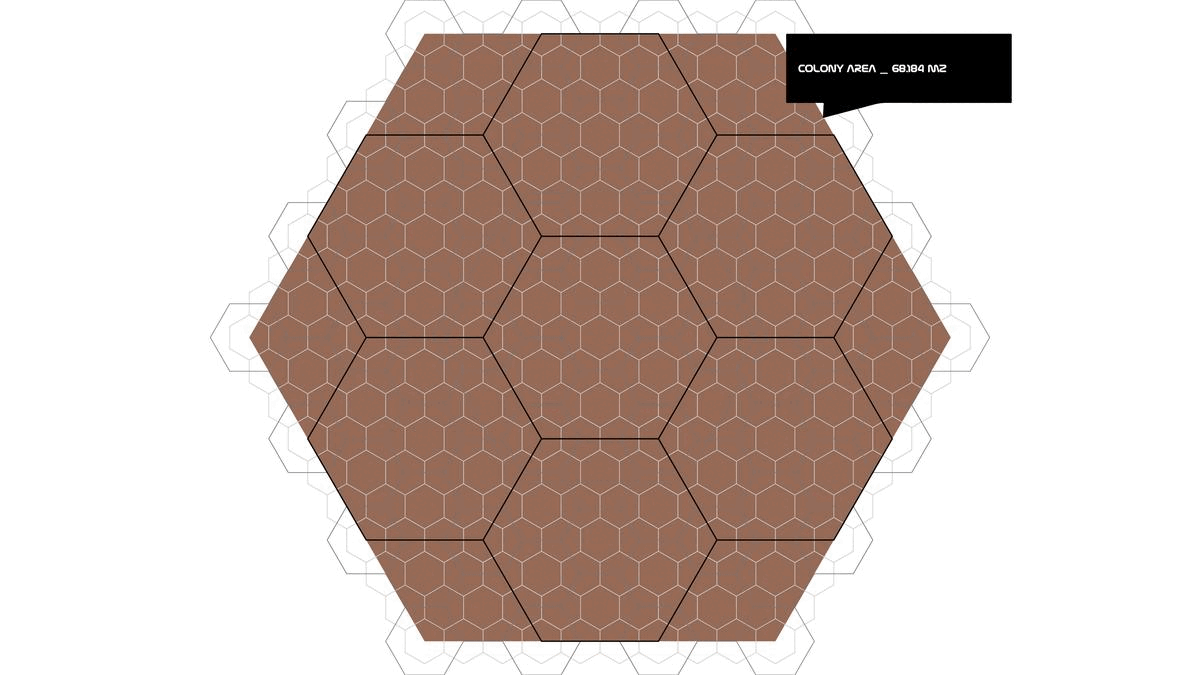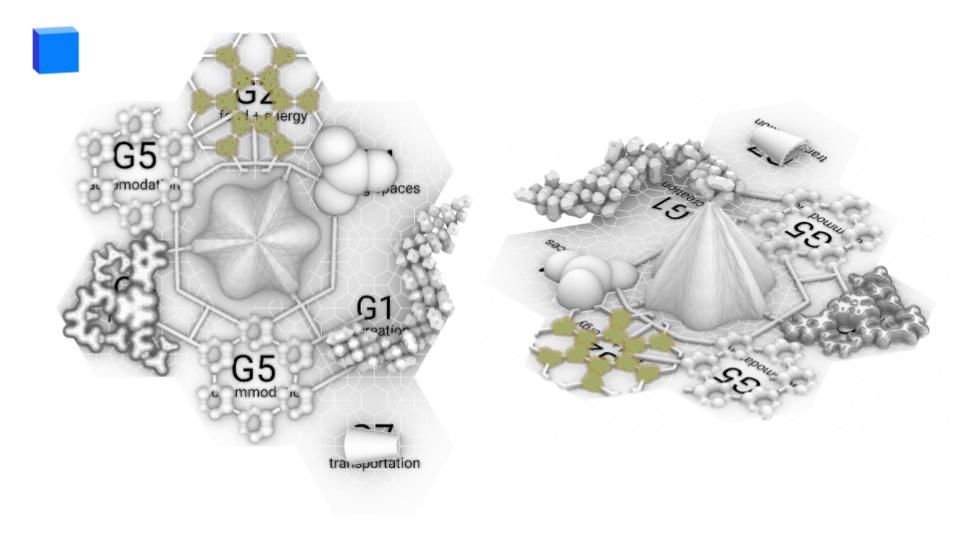 04 / CONCEPT
ORGANISE FOOD AND ENERGY PRODUCTION ON MARS BY USING LOCAL MATERIALS
Our main concept involves switching from a horizontal landscape to a vertical one, utilizing local materials for stability, and covering the structure with a dome for sun and wind energy production. Our construction process will involve printing layers of material, with the inner mesh layer serving as a space for food production. This layer will be reinforced with mycelium growth inside the roots and protected with regular layers to shield it from radiation. Solar panels will be placed on the surface of the dome for energy production.
We plan to use a technique called sintering to create the local regolith and reinforce it with mycelium growth. We also plan to use the inner mesh layer for food production by growing crops, insects, fungi, and algae inside the columns, which will serve as primary structural elements as well as functional spaces for food production.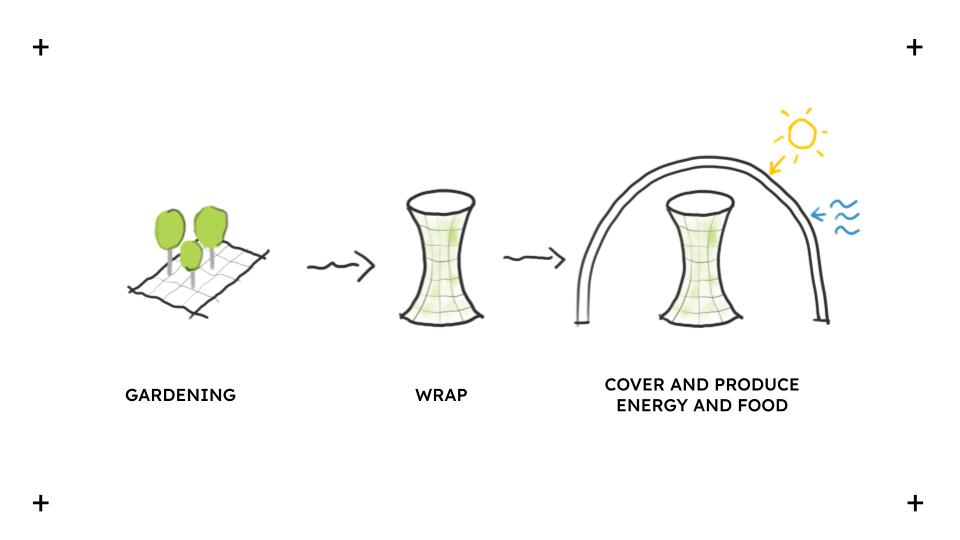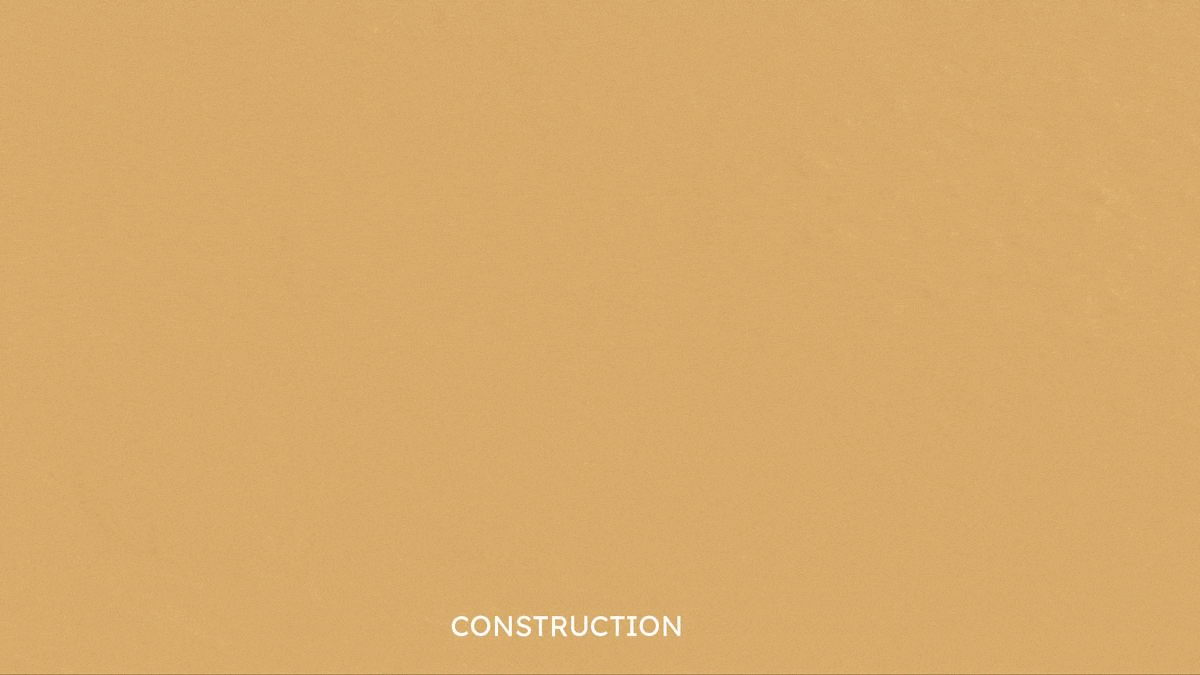 05 / MATERIALITY
LOCAL MATERIALS, GROWING MATERIALS, 3D PRINTING
In order to ensure the relevance and significance of the project, we conducted thorough research on two key areas: sintering and mycelium reinforcement. These topics were chosen specifically to complement our exploration of 3D printing techniques using locally sourced clay as a building material on Mars.
Sintering is a process that involves compacting and heating a material without melting it in order to create a solid mass. We investigated the potential of using this technique to create strong, durable structures on Mars. Meanwhile, our research into mycelium reinforcement explored the possibility of using the natural growth patterns of fungus to enhance the structural integrity of 3D printed clay structures.
By combining these two areas of investigation with our focus on 3D printing using local Martian clay, we aim to create a holistic approach to sustainable construction on the red planet.
For those interested in further exploration of these topics, we recommend checking out some useful websites such as NASA's Mars Exploration Program, the International Space Station Research and Technology website, and the Mars Society.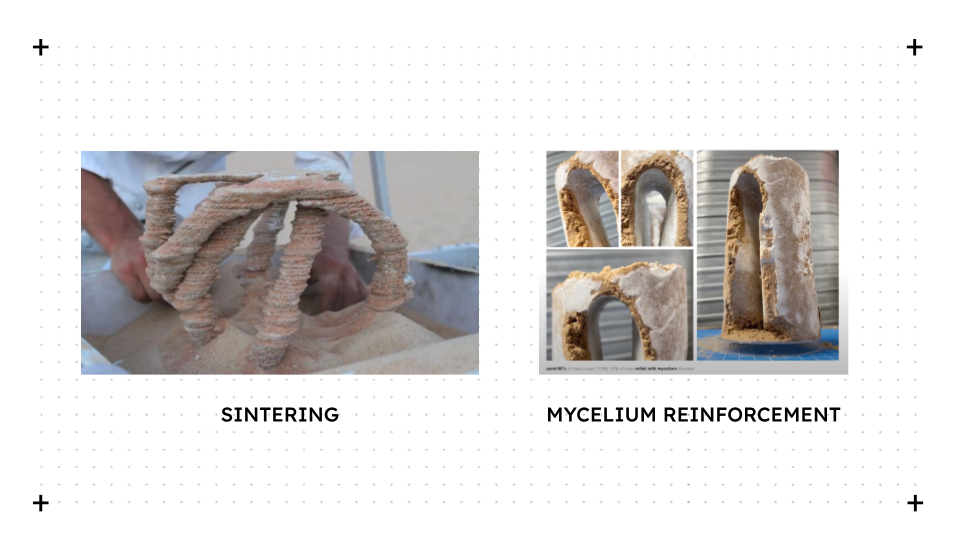 06 / FOOD MODULE
CONSTRUCTABILITY AND TECHNIQUE
In our design we combined structure and function. 3d printed columns has special perforations that can accommodate pots for growing food and plants at different techniques. The diagnosis is quite interactive, we can chose how many faces of the mesh we want to use as food productions space so that it matches the demand of the colony. In this way we have an interior where food starts growing on the floor and climbs further on the columns. It saves a lot of space. Inside each column there is a robotic arm that operates inside, picks up and plant the plants.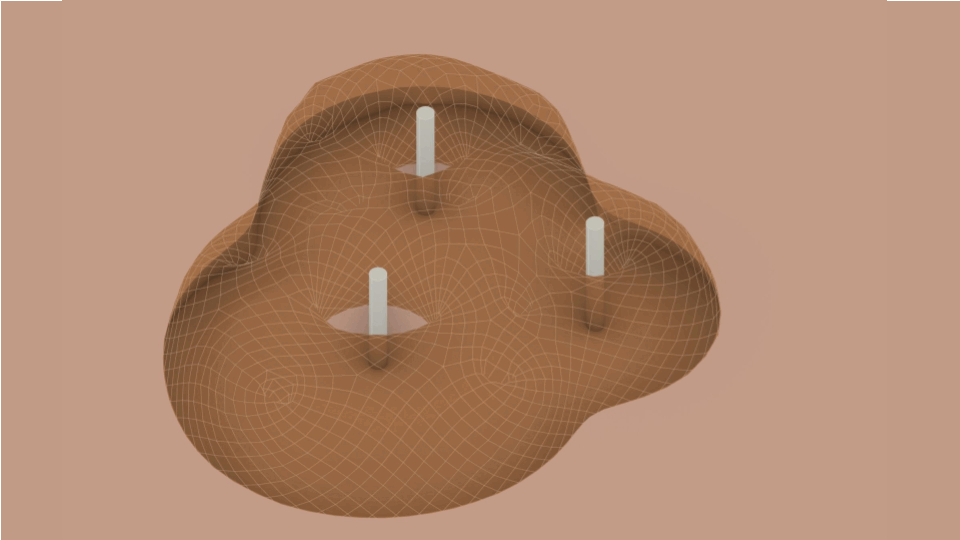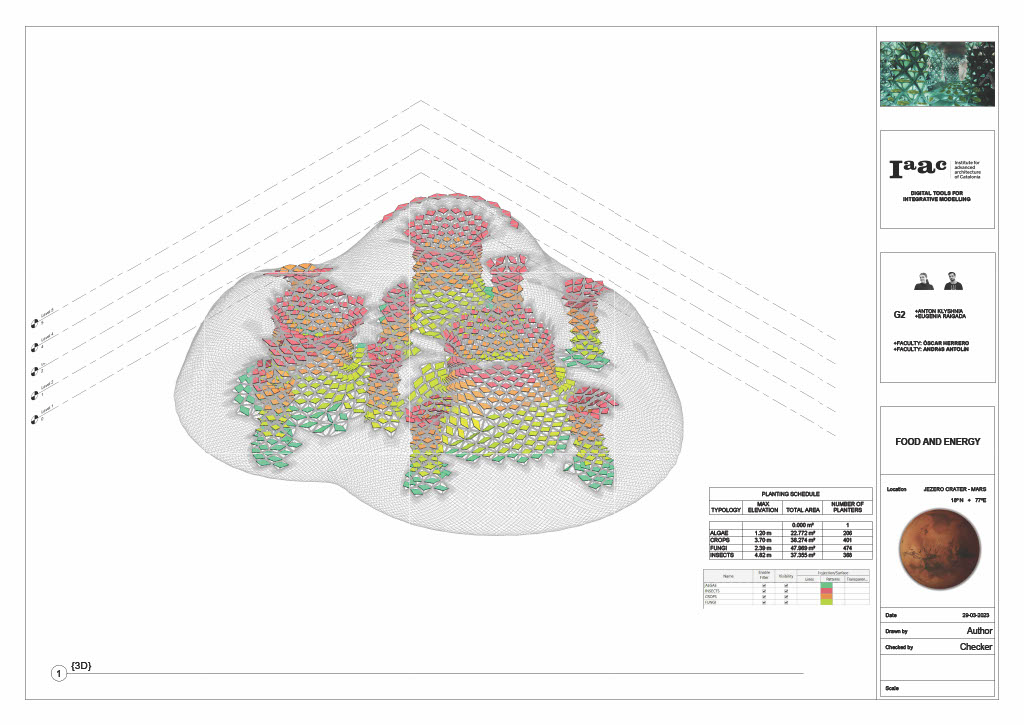 07 / ENERGY MODULE
CONSTRUCTABILITY AND TECHNIQUE
Our outer soil can to only protect ourselves from solar radiation but also serves as energy production unit. Firstly we analysed wind direction, and then we create stripe openings on the mesh perpendicular to the wind, inside of these openings we place wind turbines. Following we did a solar radiation analysis to define best placing for solar panels. Also, we change the thickness of the outer soil layer according to the sun radiation.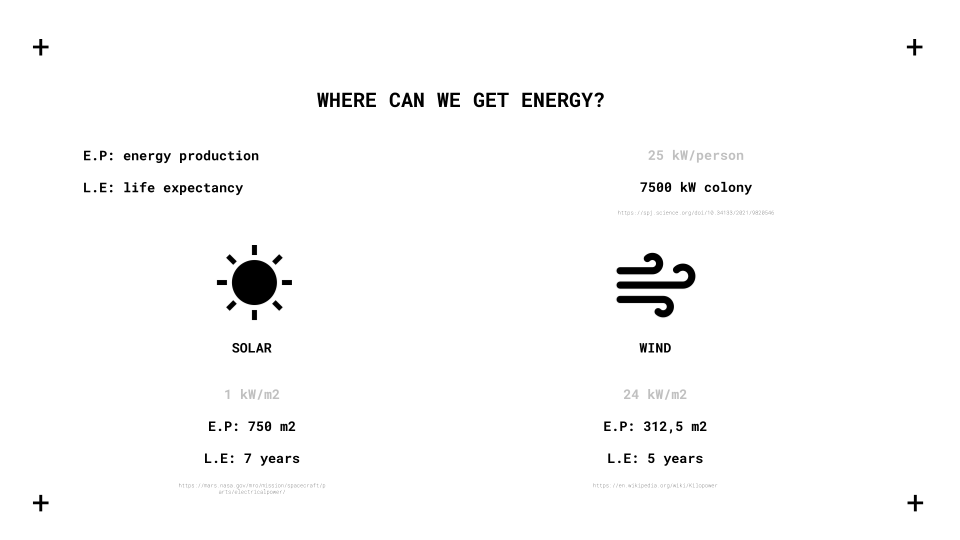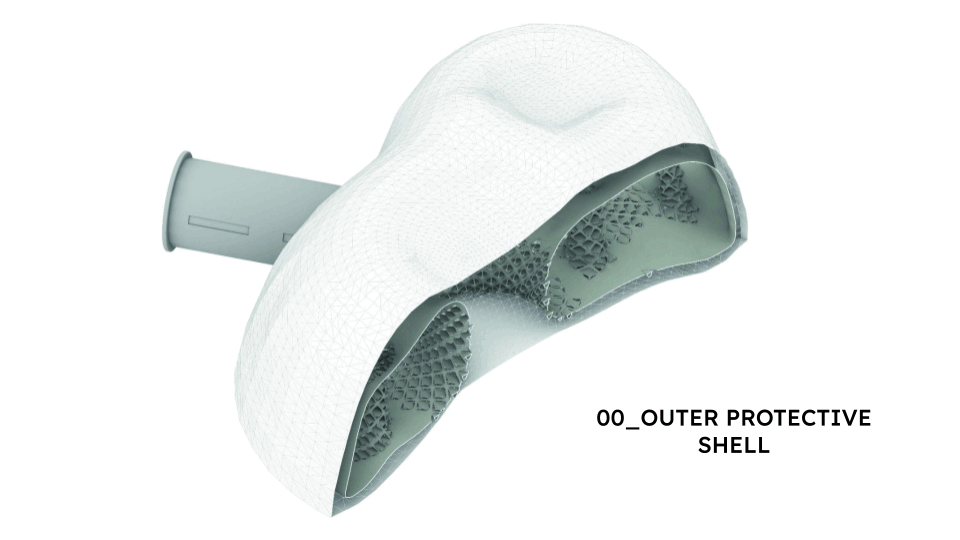 08 / DOCUMENTATION
FOOD AND ENERGY AS INTEGRATED SYSTEMS IN THE COMMUNITY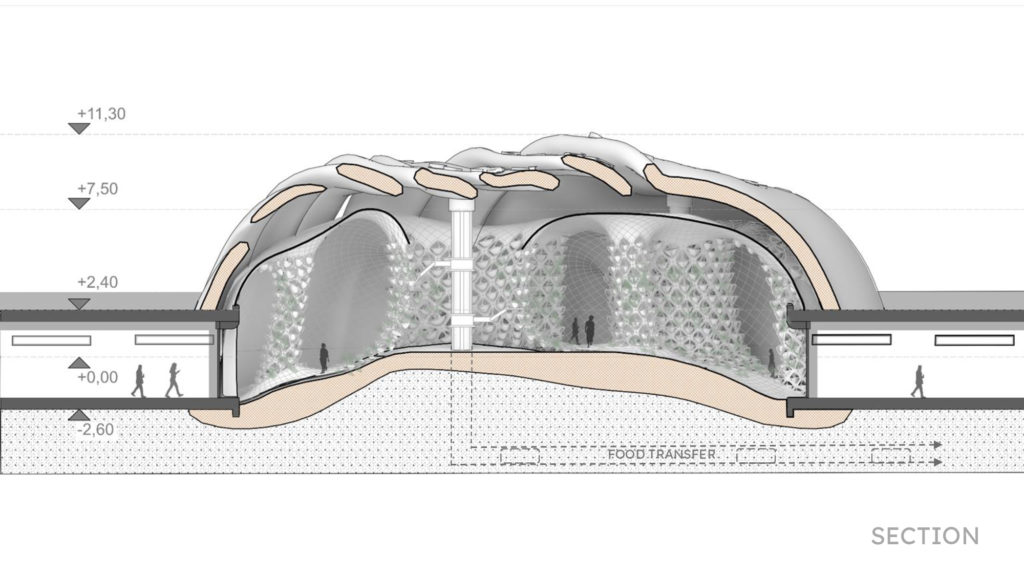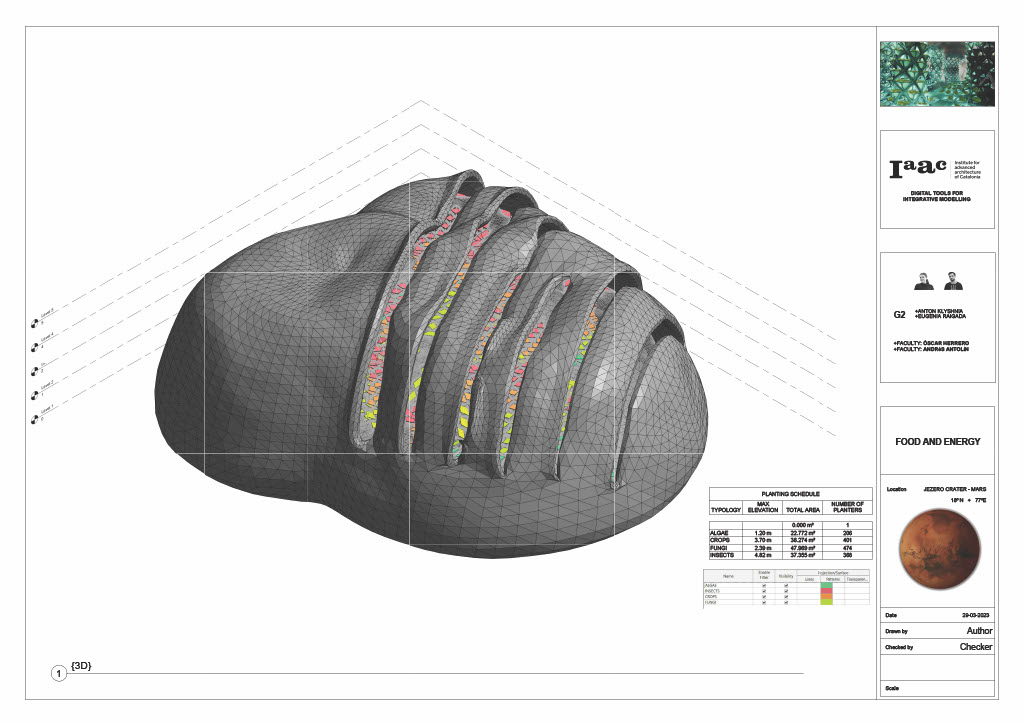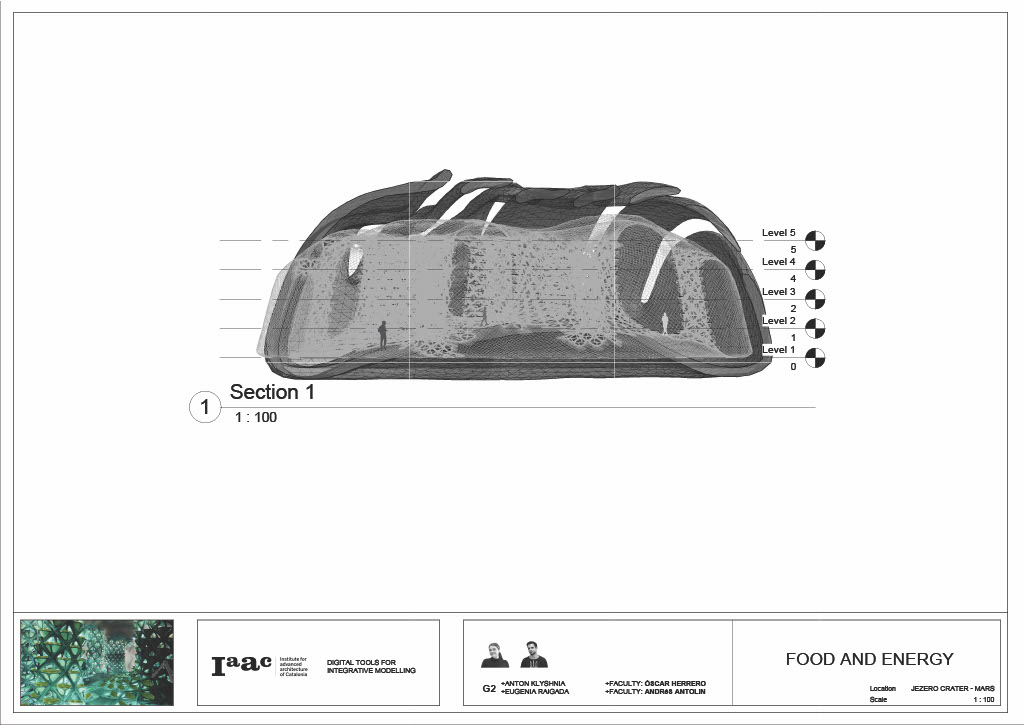 09 / VISUALIZATION
FOOD AND ENERGY AS INTEGRATED SYSTEMS IN THE COMMUNITY
Throughout the course ai apps were our tool for quick visualisations and inspirations. We mainly used midjourney for quick communication between group members to explain our design ideas. Here you can see some works produced by midjourney and Arko. Following you can also discover interior view from Rhino and Unreal Engine.